Most frequently asked questions and answers
Kizuna is a distributed, peer-to-peer, non-profit messaging application written on Holochain that prioritizes privacy, security, and user-centricity.
Currently, the plan is to release the application by Q4 –2022. However, even before that, we will have our closed alpha and open alpha / beta where you can actually experience the early stages of Kizuna messaging app. For more information, please check our roadmap: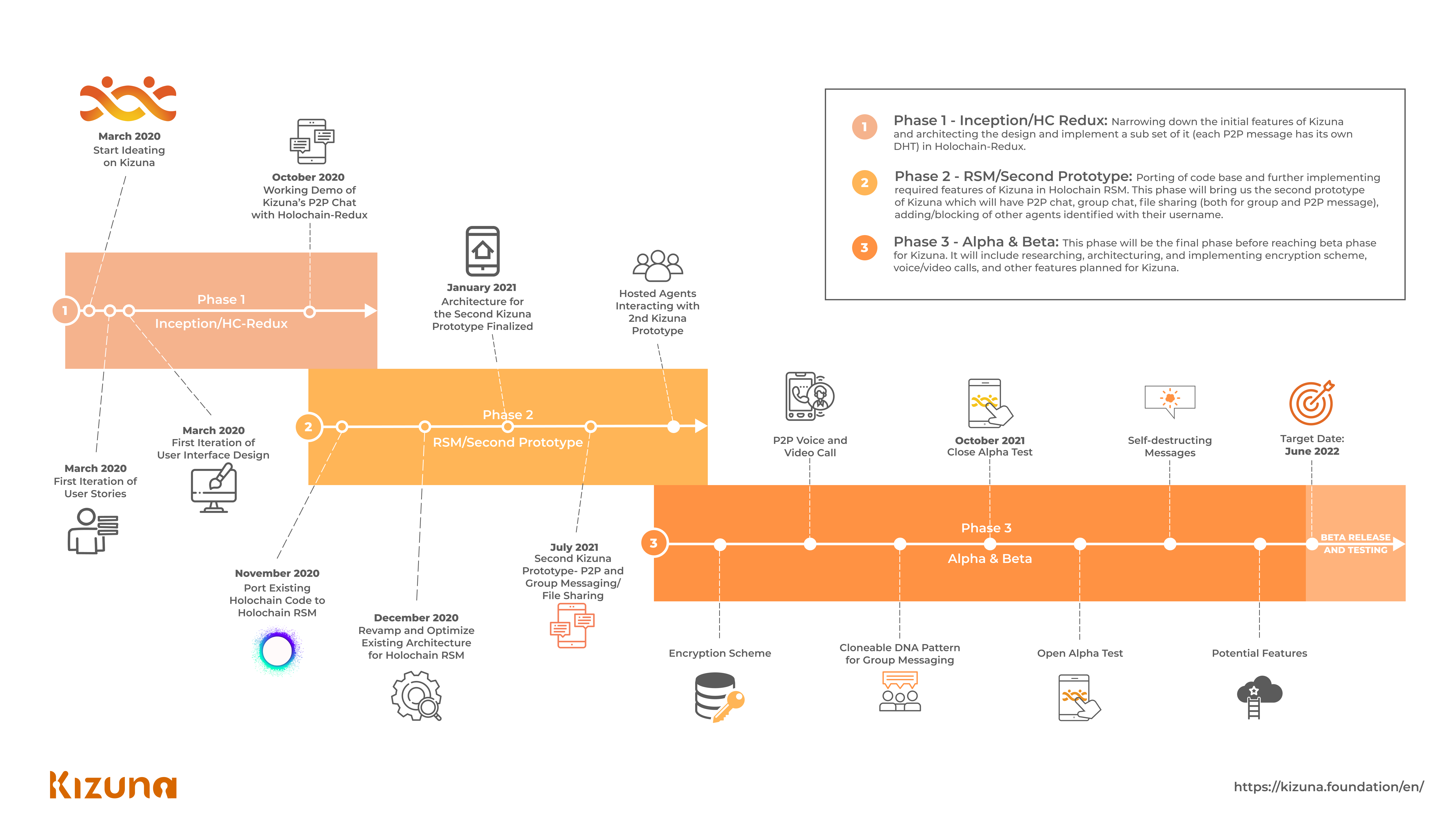 Kizuna is a Japanese word meaning " deep bond " among people. We started with a belief that this very bond we nourish and cherish with others should never be capitalized on. An ideology that this very kizuna we build with others is what makes us human and Kizuna stands against all platforms that try to monetize and capitalize on the essence of being human which is the ability to build a kizuna.
We are still exploring many options for storage so this answer may change in the near future. However, we are initially designing the app to store the message on sourcechain (the part of holochain that your private data ledger) but encrypted with the private key of the agent so that even HoloPort owners cannot read the data. 

The reason for this is that this implementation caters to both hosted-users (people who have their data (source-chain) hosted on HoloPort) and native-user (people who are running Holochain natively on their devices) since this gives us the flexibility to just develop the UI to fetch data from the source-chain (wherever that is located). When the time comes that Holochain can run natively on mobile phones, this implementation would also allow us to give the user of Kizuna to choose whether to store their source chain on their local device or in a Holoport.



We are aiming for modularity in building the components (roughly separated as zomes) of Kizuna so that others could use those components as a feature for their applications. For interoperability, we plan to also build interfaces to the Kizuna DNA (the part that makes the holochain layer of Kizuna) so that agents (users) can choose to interoperate kizuna with other applications that wish to do so.
Kizuna uses Holochain, a new framework for peer-to-peer distributed applications as its underlying technology. In a centralized cloud server such as AWS, even if you create a backup of the data to strengthen its security, if the WAF (Firewall) is broken, unencrypted information can be reached by malicious attackers.
In Kizuna, information is stored in a distributed network hosted with devices that can be installed in homes called Holoport.
Hacking Holoports that are distributed all over the world is going to be much harder than hacking a centralized server. And even if the hackers succeed in decrypting the encrypted data (which is said to be costly and difficult) stored in a Holoport, it is impossible Overall, it would be very time consuming and costly which makes it impractical for hackers to attack the distributed network Kizuna uses.
Just like any digital application, Kizuna will operate within the boundaries of law that it needs to operate with. Having said this, Kizuna is a tool that allows you to assert your privacy and communicate safely with whoever you wish.
However, we need to mention that we do not really have control over how people will use the tool we are trying to create.

With regards to scams, we are designing Kizuna so that we can mitigate spam accounts and make sure that you are only conversing with the people you truly intend to.
We invite you to join our growing community. We have an awesome group of people in our Telegram community channel. You may also subscribe to our newsletter to receive monthly updates on our development. Everyone is welcome!